HIS POSITION ON TORTURE IS JUST SHY OF AN ENDORSEMENT.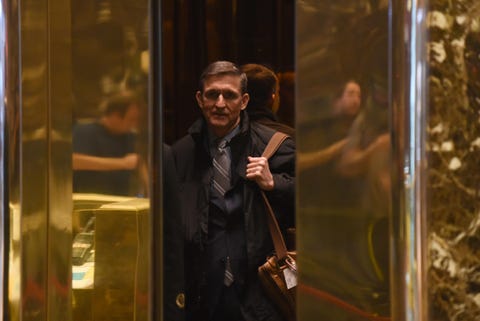 Flynn was once against waterboarding but has softened his stance since aligning with Trump, who has said that he would allow waterboarding and that "torture works, OK, folks?" Flynn claims that as an intelligence officer in Iraq, he helped end abusive interrogation practices. "We were going by the book," he told The Intercept.
But instead of renouncing the use of torture or the committing of war crimes, Flynn said this about Trump's statements: "Here's what a guy like Donald Trump is doing: He's basically saying, 'Hey, look, all options are on the table,' and being very unpredictable in the face of a very determined enemy." Human Rights Watch says that Flynn shows "a stunning contempt for the Geneva Conventions and other laws prohibiting torture."
9 of 10