Donald Trump's former national security adviser is under formal investigation by the Pentagon for his apparently undisclosed paid speaking engagements in Russia, it emerged on Thursday.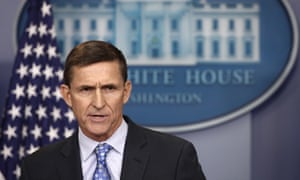 Retired army lieutenant general Mike Flynn, a former Defense Intelligence Agency (DIA) chief, has attracted the official scrutiny for potentially failing "to obtain required approval" for a Moscow speech to RT, a state-controlled news channel that US intelligence considers an arm of Kremlin propaganda.
Acting Pentagon inspector general Glenn Fine disclosed the inquiry in an 11 April letter to the House oversight committee, which is also investigating Flynn. The committee released Fine's letter on Thursday.
1 of 4